Vasiliou Law
Business Industry

Professionals Segment

Business Type

Legal Services

Brand Name

Vasiliou Law
Challenge
Building brand foundation and awareness for a new law company in Cyprus
Back in 2018, the major challenge was the intersection of circumstances; a client had a strong desire to build a number one law office in Larnaca, full of commitment had a limited vision of business development procedures along with limited budget and lack of a general marketing concepts understanding; As the whole the challenge was broken down into three major problems: Brand foundation without a long-term vision and absence of the purpose was the major one; High-profile visual identity with selected brand values was the major two; Print and digital presence without anyhow structured company, services and product information was the major three.
Problem 1 - Lack of a Strategy

0

%
Problem 2 - Lack of an Identity

0

%
Problem 3 - Lack of a Presence

0

%
Solution
X-Brand
X-Identity
X-Prints
X-Website
Solution one to a major problem one starts with a deep dive into founders mind though a number of interviews patiently observing every little insight; After collecting information needed from the founder we begun outlining the brand character by defining its purpose, vision, mission and want; afterwards translating the brand character into the required brand personality by choosing its values, interests, strengths, attributes, archetype and uniqueness statement.
Solution 1.1 - Founders Interview
Solution 1.2 - Brand Character
Solution 1.3 - Brand Personality
Solution 1.4 - Brand Naming
Solution
X-Branding
X-Identity
X-Brochure
X-Website
Solution two to a major two was to design a high-profile visual identity system in a clear and direct manner from a new brand; the procedure of establishing a symbol concept requires a lot tolerance not to fall into fantasy ending-up with another abstract non-sense, was a stimulating procedure that had successfully resulted with a desired design; After confirming the concept: we found matching typography, colours and gradient and rest identity system items; Lastly moving to the corporate identity we have designed the business cards, letterheads, envelopes, stamps, legal document templates, presentation folder and e-signatures.
Solution 2.1 - Finding the Concept
Solution 2.2 - Identity System Design
Solution 2.3 - Corporate Identity Design
Corporate Identity Mock (1)
Corporate Identity Mock (2)
Corporate Identity Mock (3)
Corporate Identity Mock (4)
Corporate Identity Mock (5)
Corporate Identity Mock (6)
Corporate Identity Mock (7)
Solution
X-Branding
X-Identity
X-Prints
X-Website
The first half of the major third was a creation of company brochure; Relatively not difficult objective when the content is given; As it was not writing a content along with creating the graphic combined coming up with the structure demands a lot of concentration; In total we have created 8 brochures; The structure of the core one was Vasiliou Law, Areas of Practice, Management Board, Company Structure, Partnership Proposition, Attachment One, Attachment Two, Attachment Three, Attachment Four, Why Vasiliou, Law Contact Information.
Solution 3.1 - Information Structuring Design
Solution 3.2 - Content Writing and Editing
Solution 3.3 - Designing Graphics & Illustrations
Solution
X-Branding
X-Identity
X-Prints
X-Website
The second half solution to a major three was a creation a corporate website; Starting of with defining a structure, we have moved to website pages and content copywriting, graphic design and illustration; on the next step we have implemented the features and development of the pages; lastly, the website was cross-device and cross-browser optimised and connected to various analytics platforms including google.
Solution 3.1 - Website Structure Development
Solution 3.2 - Website Pages & Content Design
Solution 3.3 - Website Pages & Features Development
Solution 3.4 - Website Analytics & Optimisation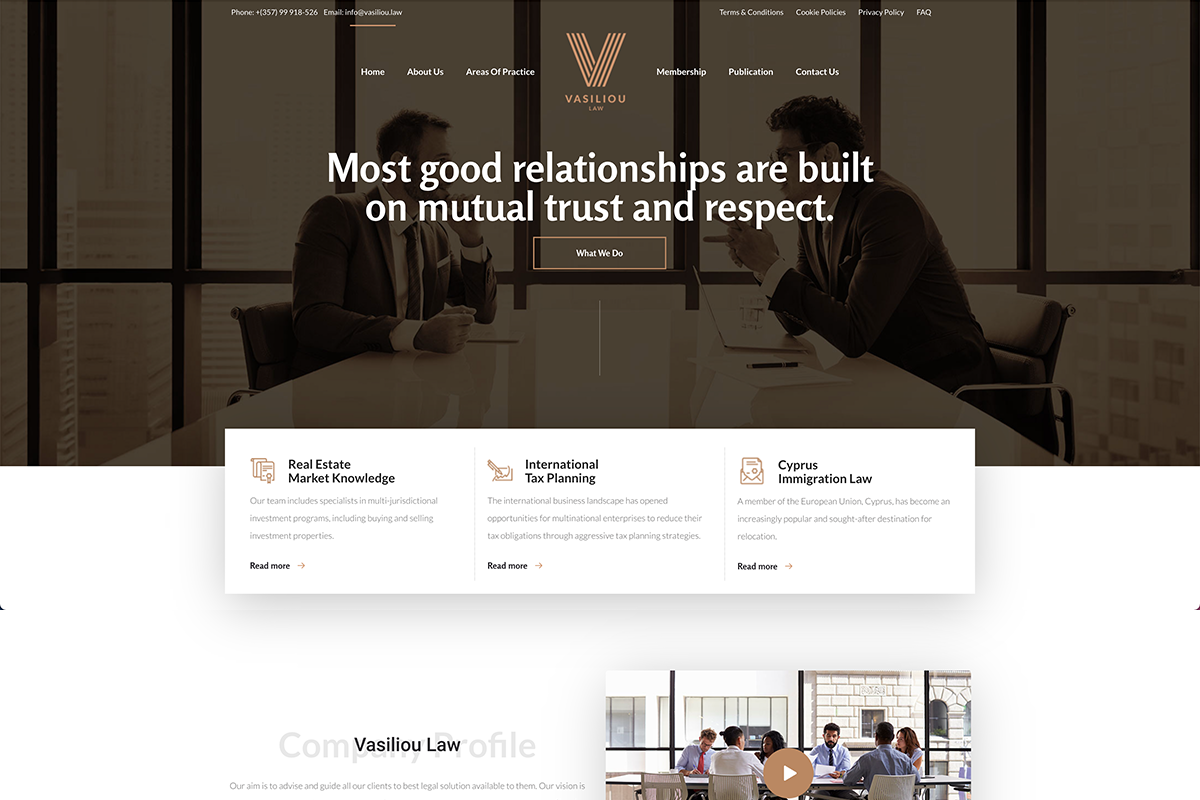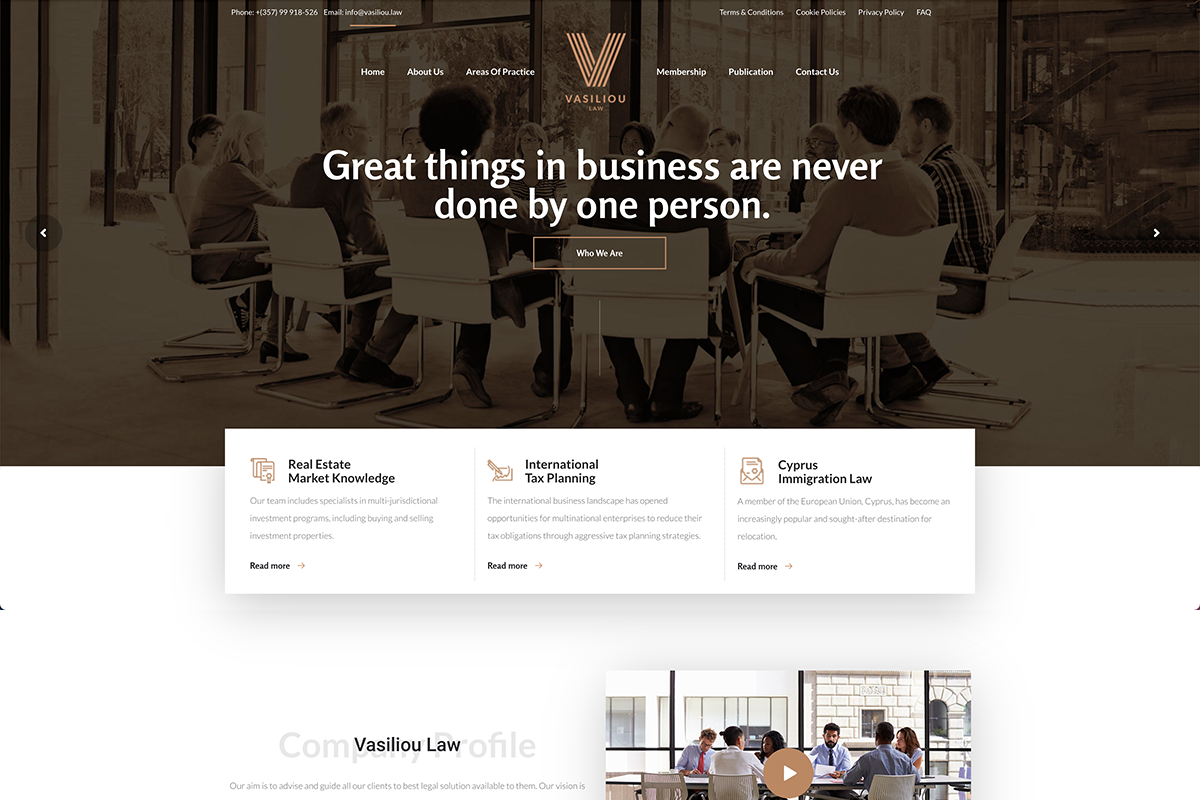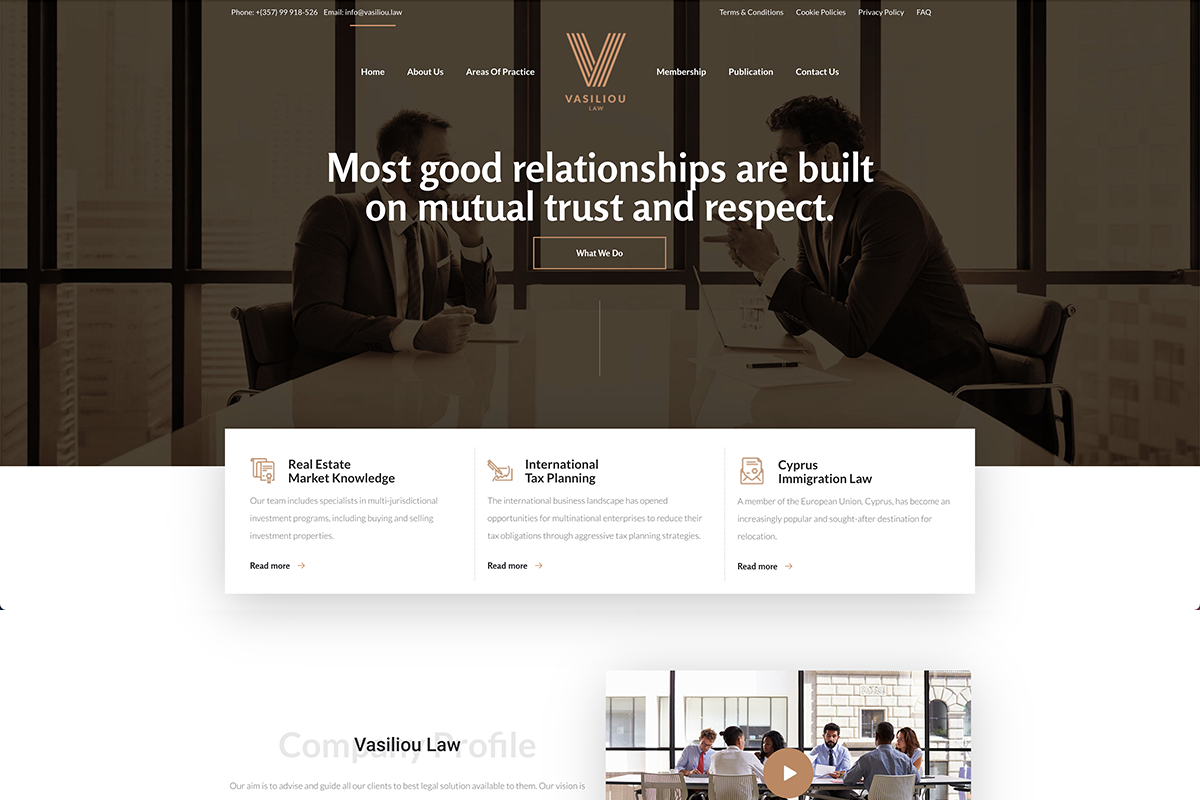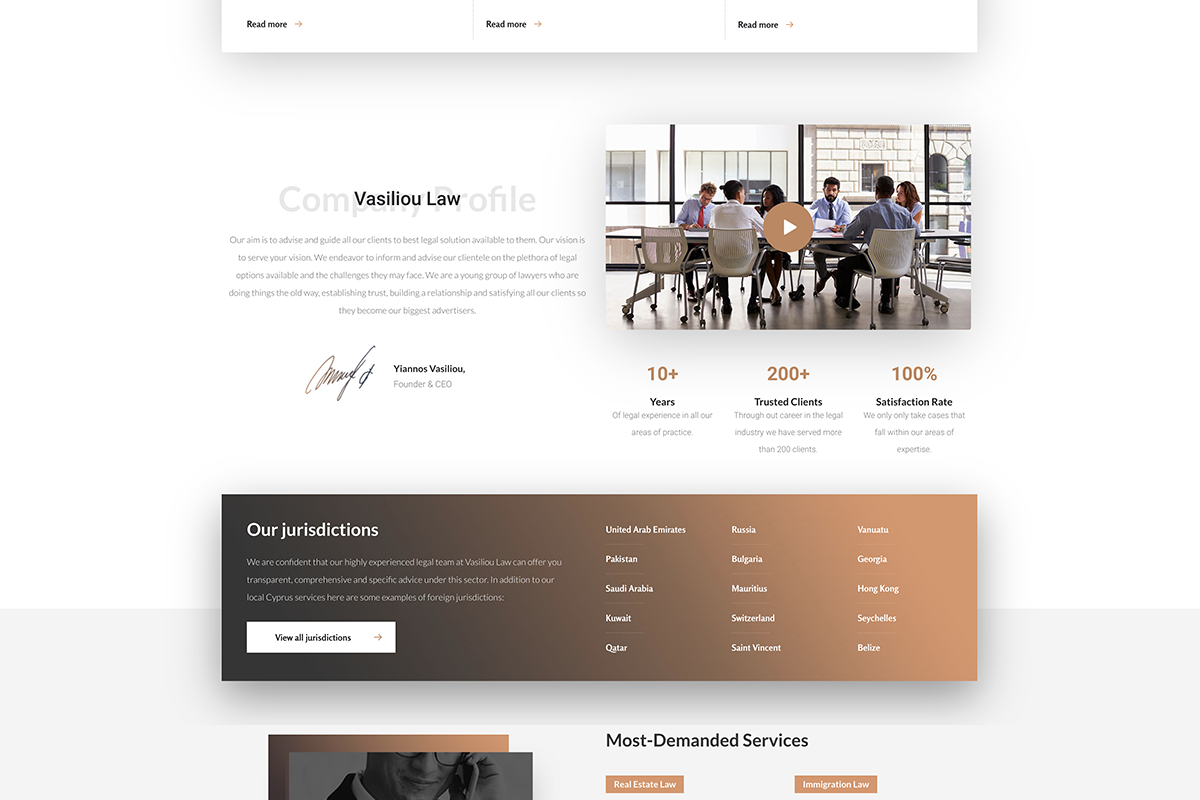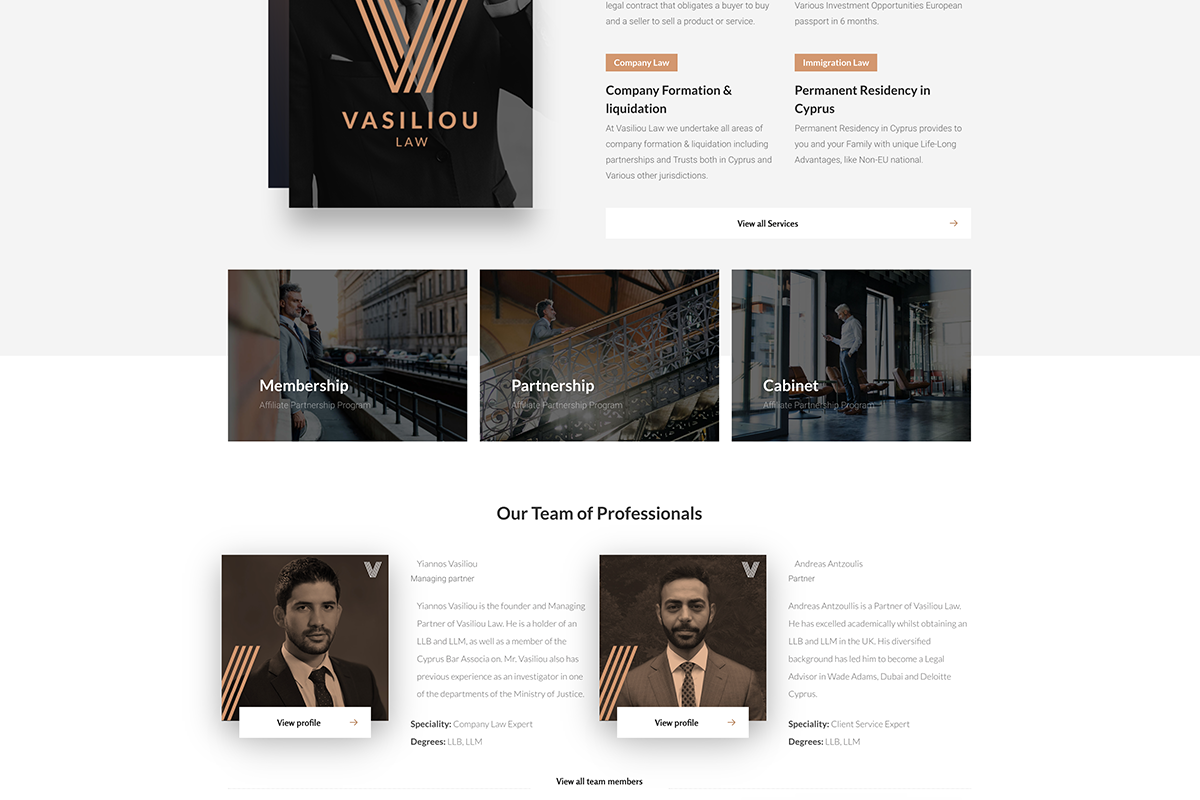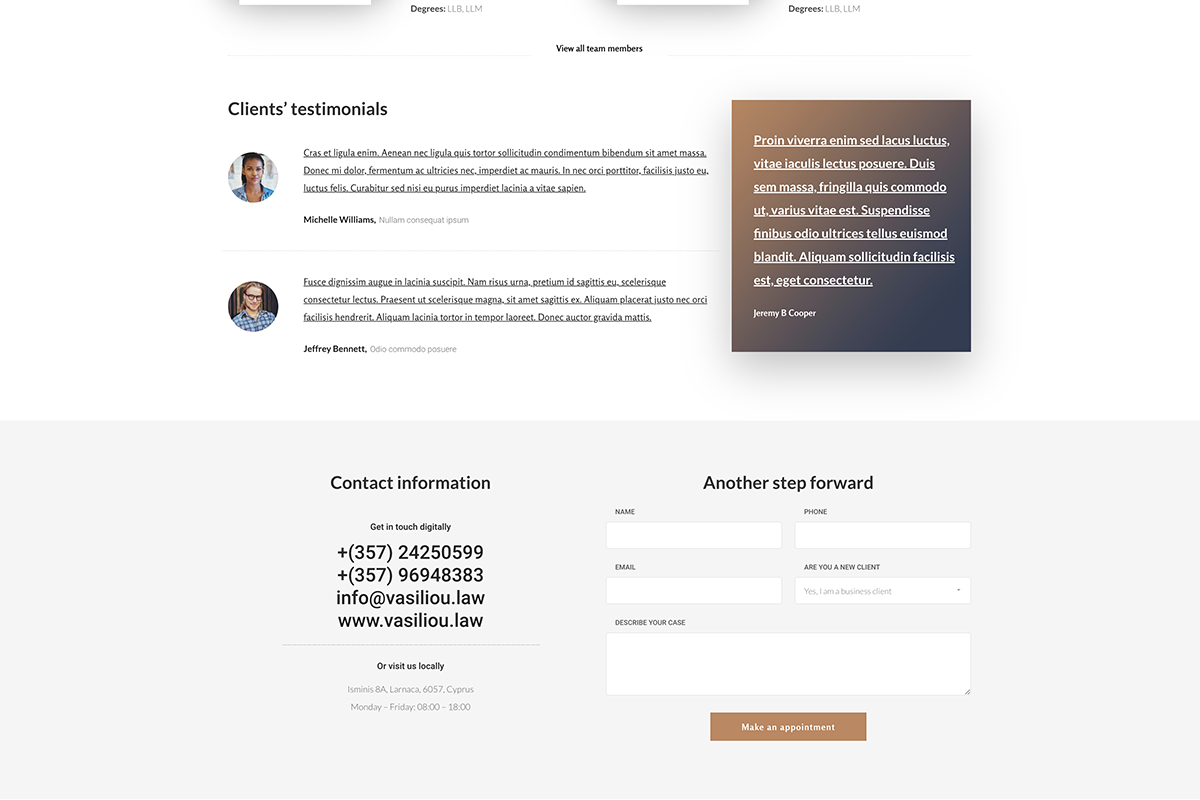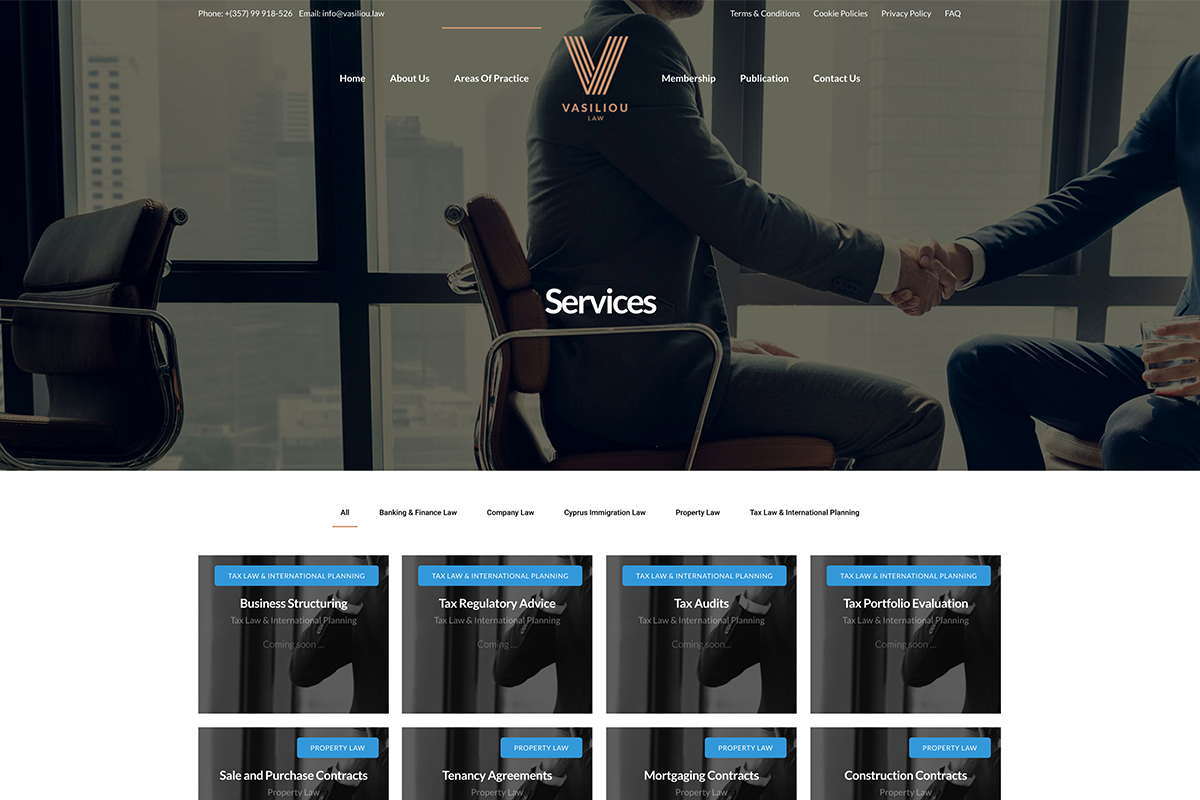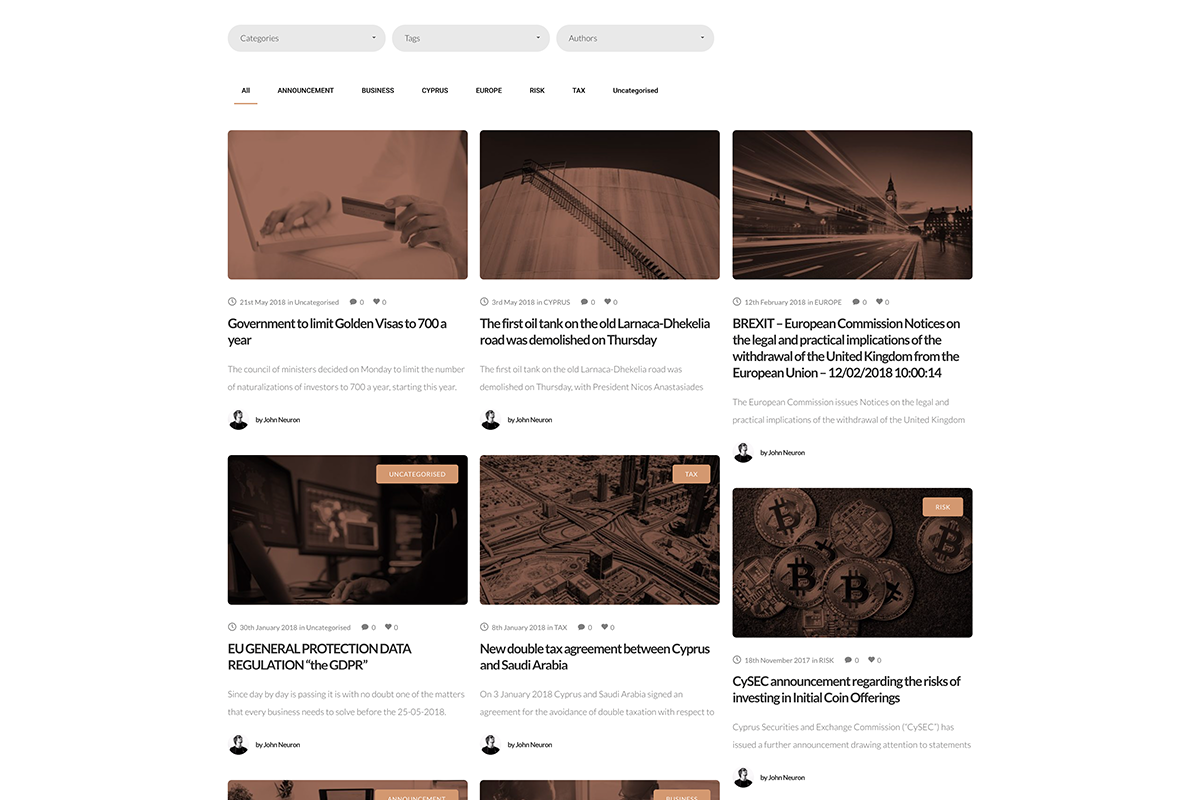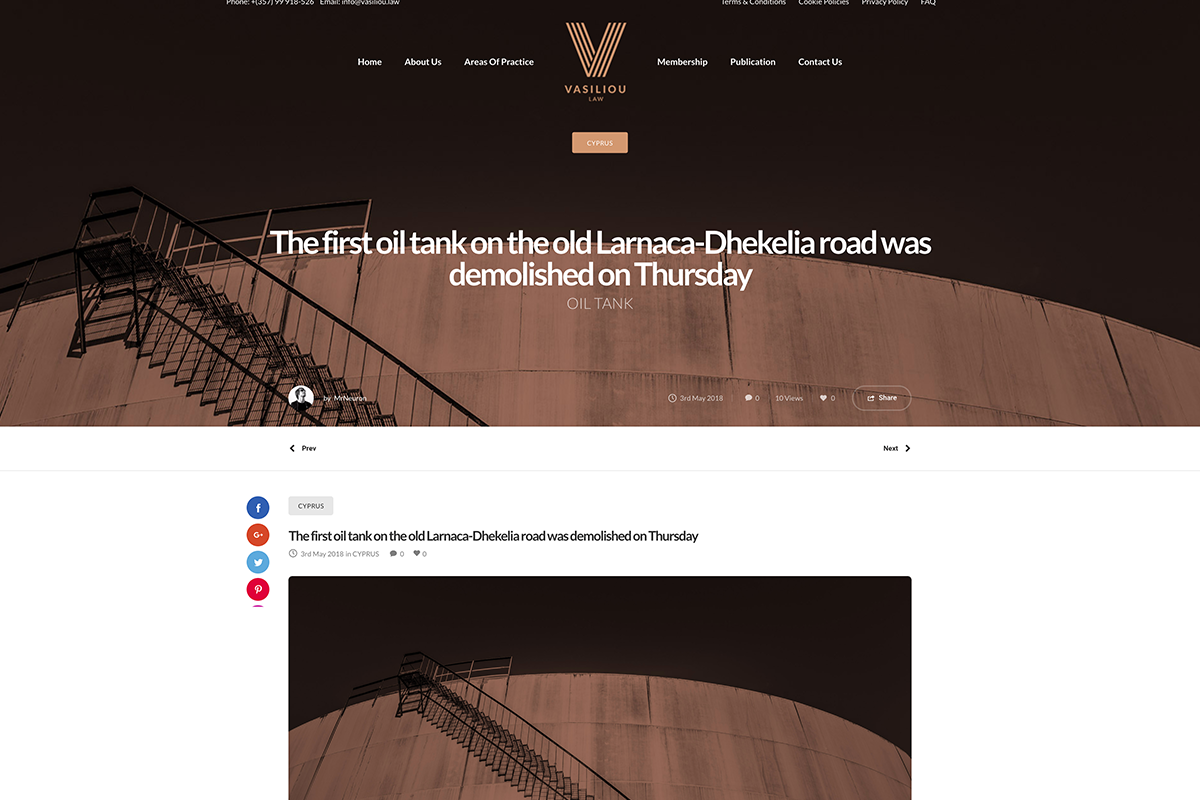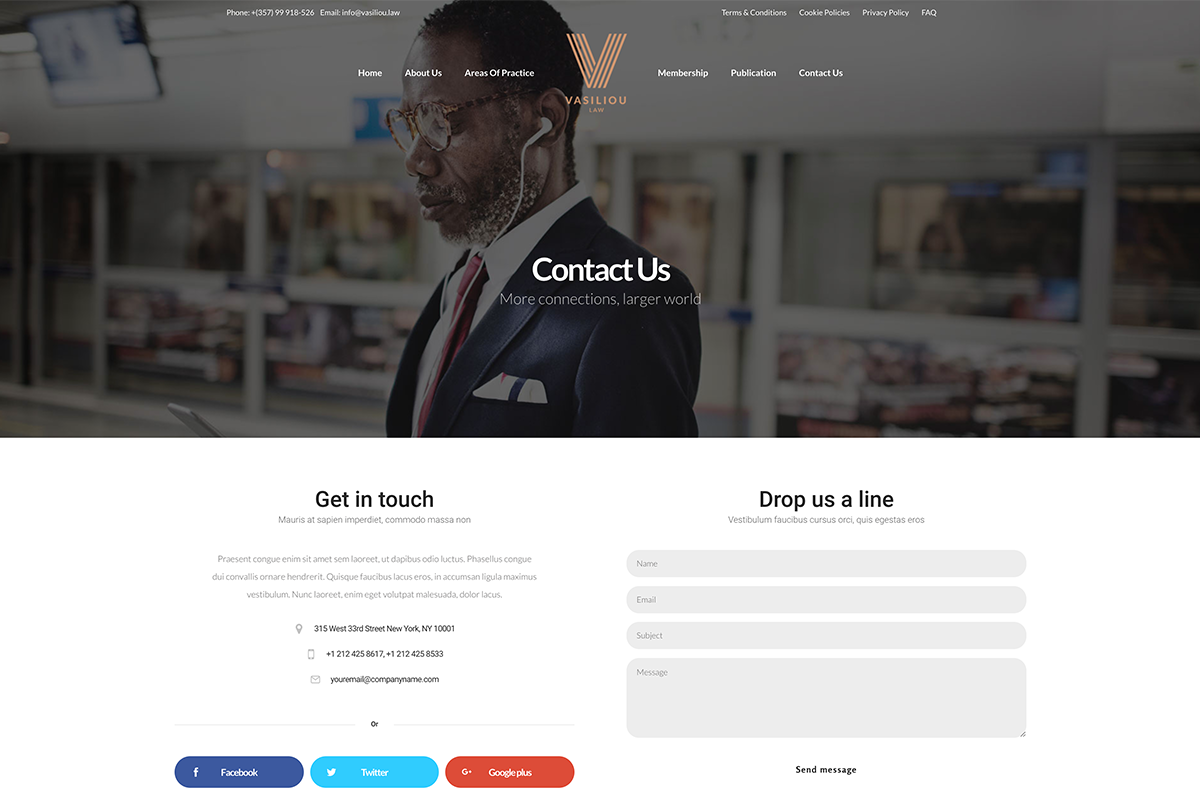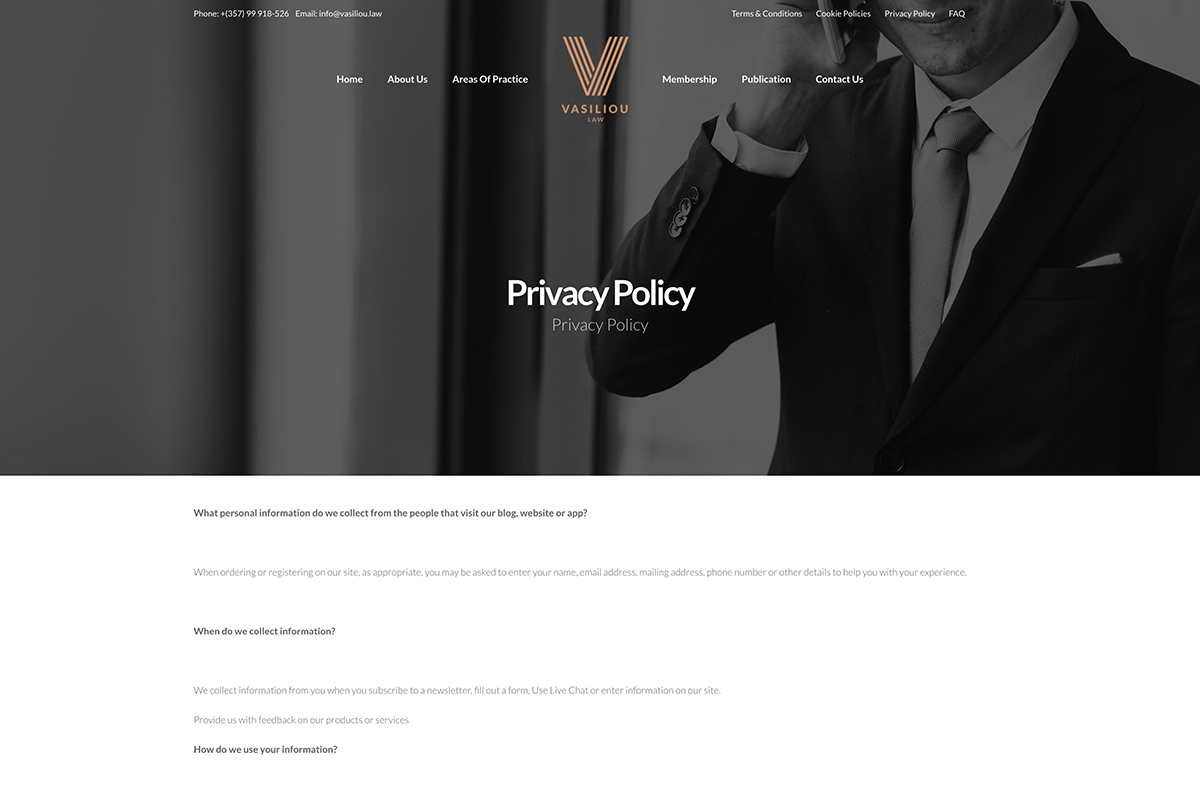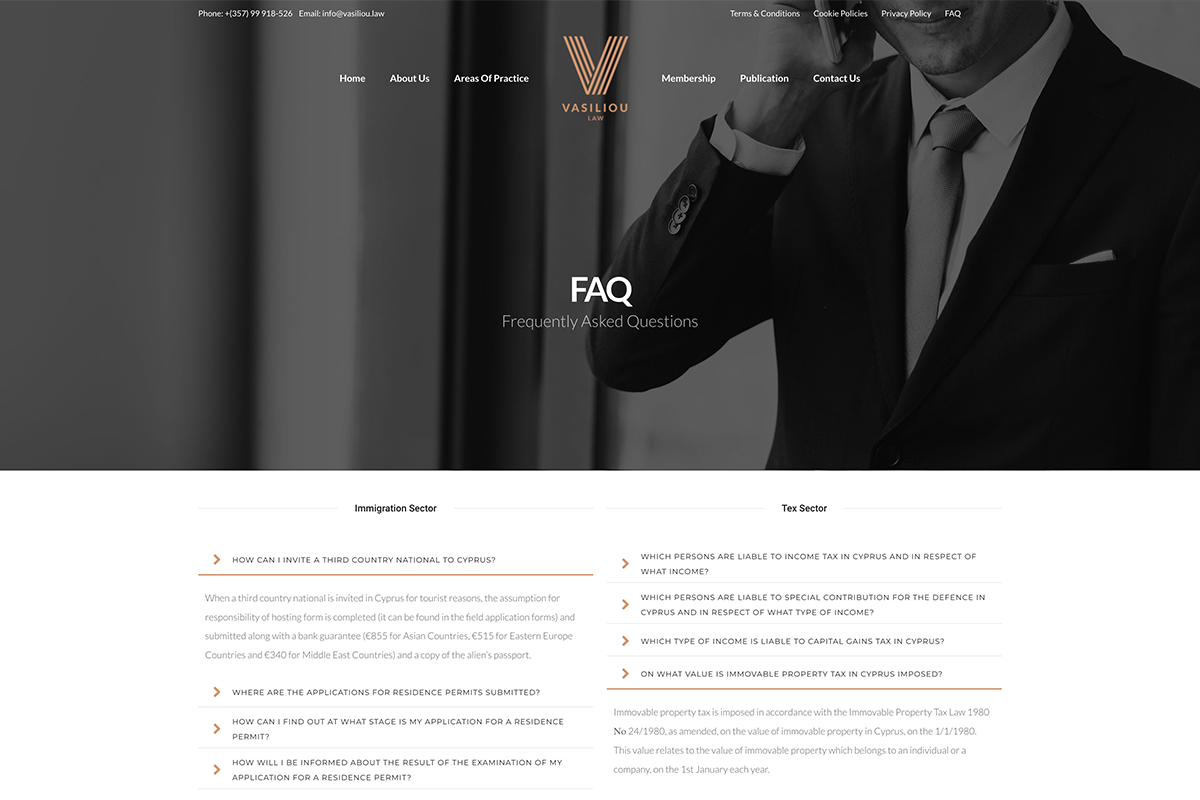 Quote
"Thank you for proactivity, visual taste, project direction and fast delivery.
Vasiliou Law is one of the fastest-growing law firms with expert lawyers in Cyprus, providing legal services with extensive and expanding clientele, ranging from private individuals and international clients to global organisations. From 2019, Y. Vasiliou & Co LLC is the exclusive member for Cyprus of International Commercial Law Alliance (ICLA),a strategic group of law firms from around the world, ensuring servicing the needs of its clientele in more that 31 countries. We have developed a strong network of professional and reliable partners in Cyprus and abroad; We have partnered with financial advisors, international law firms and financial institutions, which enable us to act as one-stop legal firm and provide adequate and exhaustive legal advise to our clients. Moreover, we solve legal issues and we are keen in providing accurate and effective legal advice.
Project working
budget in euro
— Andreas Antzoulis
Account Manager
— John Neuron
Project Manager
— Dmitry Romanov
Web Developer
— Prod Antzoulis
Art Director
— Vitaly Moore
Creative Director
— Alexandr Romanov
Graphic Designer
Let's collaborate
Send us an email, to discuss a new project.
We're a team of creatives who are xsited to help you build your next online business with convenience and efficiency. We are best at handling difficult situations with ease, don't hesitate to contact us, xxx.